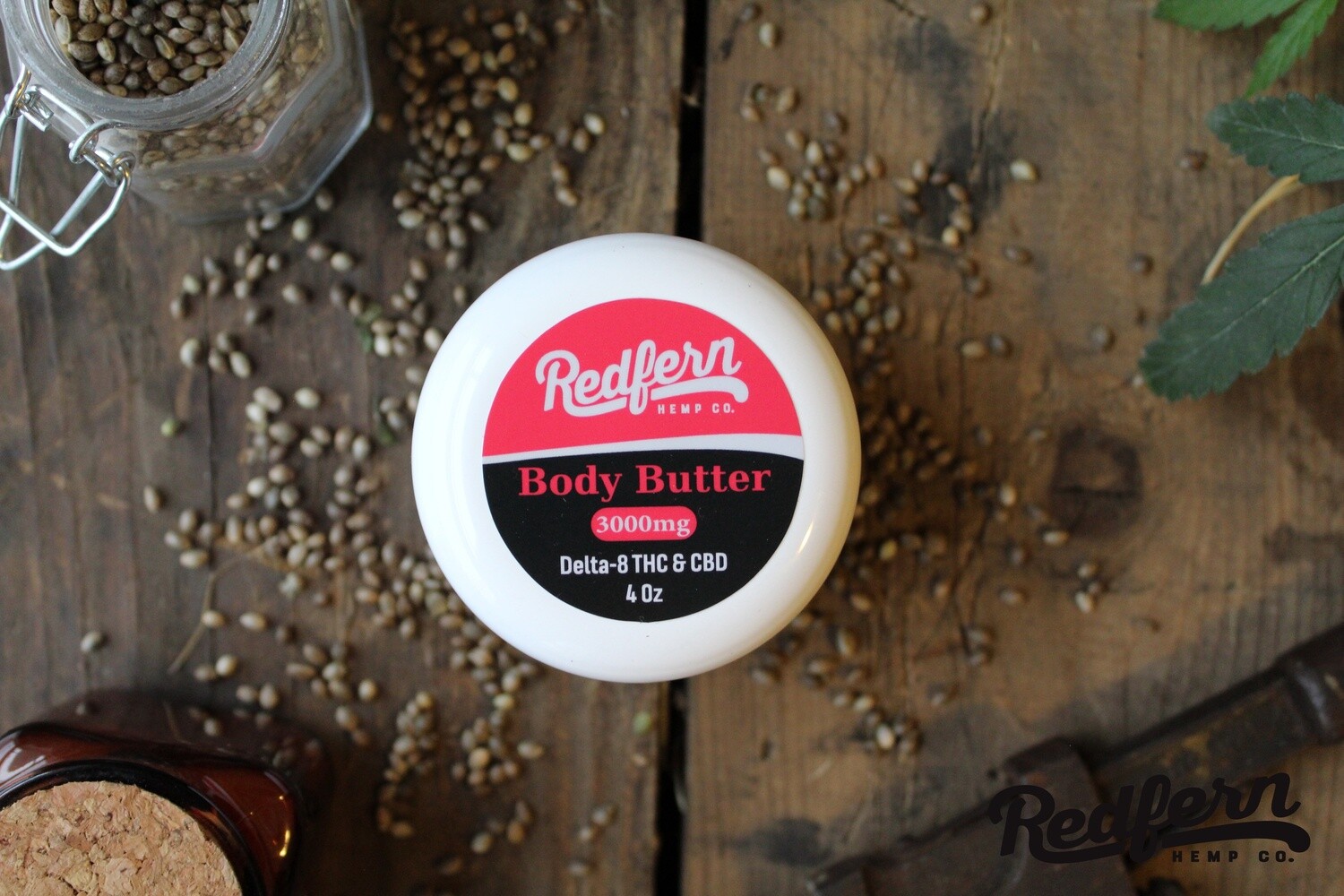 Premium THC/CBD/CBG Body Butter
00036
Product Details
Description
Visualize yourself perhaps experiencing those chronic discomforts akin to a past surgery or life experience that has never seem to really go away. Maybe you are on the natural journey of aging and your body has developed some arthritis that is irritating at moments.
Need something that works quickly on demand?
Our naturally-formulated Premium 8THC & CBD Body Butter is reported by our customers to give that instant relief to those annoying aches and pains. Hundreds of customers say that this product promotes a reduction in inflammation, relaxes the body/mind, and lowers pain due in part to the wonderful natural compounds found in the hemp plant.
All of our products are third-party laboratory tested to ensure the quality of our products while giving our customers peace of mind that the products they purchase are safe and natural.
This product comes in two strengths/sizes:
– 2 oz. size (1500mg Hemp-derived CBD and Delta8)
– 4 oz. size (3000mg Hemp-derived CBD and Delta8)
Note: Each 1oz of product contains 750mg of Hemp-derived CBD and Delta8.
Now if you are looking for maximum immediate impact, our customers frequently purchase this product with one of our Whole Plant CBD Tinctures which has been reported to give users a stronger instant full-spectrum effect.
*Heat Sensitivity Disclaimer*
Products are packaged and shipped with care, however we understand that some products are liable to heat damage. All Body Butter products are purchased at your own risk and cannot be refunded or replaced if melting occurs during transit.

Ingredients
Ingredients
– Hemp Seed Oil
– Premium Shea Butter
– Coconut Oil
– Almond Oil
– Avocado Oil
– Organic Arrowroot
– In-house Grown Hemp Plant Extract (CBD and Delta-8THC Distillate)
Shipping and Return
You have 15 calendar days to return an item from the date you received it if they meet a certain criteria ie. defective hardware, product, etc. To be eligible for a return, your item(s) must be unused and in the same condition that you received it. They must be unopened in the original packaging. You must show proof of purchase. Your return may be eligible for a case-by-case investigation.

FAQ
– How much should I use?
We suggest applying an even layer to the skin. You want to apply the product in the same fashion as a standard lotion.
– How long does it take to work?
As with all hemp-derived products, each users sensitivity can vary and the timeframe it takes to start working is variable as well. If you do not know your sensitivity level, we suggest one application and wait 30 minutes to gauge your reaction.
Note: This product can be used on an immediate need basis. Our customers report this product works instantly.
– How long does it last for?
Our customers report a range from several hours per application to a one-and-done single application. Again, this directly plays into the users sensitivity regarding hemp-derived products.
– Where/How do I apply?
We suggest you apply this product to the area of your body that is experiencing aches and pains. We recommended a 5 minute massage of the application area for maximum effect.
– Will I get 'High'?
Note: This product contains hemp-derived Delta-8THC, if used as directed the quantity is so minute that it has not been reported to be psychoactive. Although, we cannot guarantee due to the different sensitivity levels people have towards hemp-derived products.
Legal
This product contains <0.3% Delta 9 THC and is non-psychoactive. Keep out of reach from children.
IMPORTANT NOTICE: Many of our products contain low levels of THC which may result in drug screening issues. all products contain <0.3% Delta 9 THC.
*** These statements have not been evaluated by the FDA. This product is not intended to diagnose, treat, cure, or prevent any disease. Do not take if pregnant and ask your doctor about any interactions if prescribed to other medications. ***
Save this product for later
If you are local to central VA, you can also visit us at the Redfern Market off Exit 104 on I95 in Carmel Church.